2023 Taiwan Annual Conference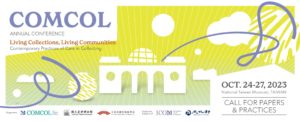 COMCOL annual conference 2023
24-27 October Taiwan
Living Collections,Living Communities
Contemporary Practices of Care in Collecting
On the occasion of COMCOL's 13 annual conference we will join forces with the Chinese Association of Museums (CAM) in Taiwan in 2023. For this conference we will focus on contemporary practices of care in collecting. In the wake of the adoption of the new museum definition at the ICOM General Conference in August 2022, we would like to explore how we can look at the new aspects that were added, emphasizing the social role of the museum, but also its involvement in and with diverse societies. The new definition is both a recognition of existing practices as well as opening new avenues. What does it mean for the act of collecting, but also for the ways collections are dealt with?
At the moment we are working hard in creating the program. Keep a close eye on the announcements here and on our social media for update.
The first step: Call for Paper & Practices  is open now!
We very much look forward to your contributions. You can discover the Call for Papers and the modalities of participation under this link. Your proposals are welcome until the 1st of April, midnight (CET).
Apply now for our Young ICOM Members' Travel Grant Programme 2023!
To encourage young colleagues to participate in ICOM and COMCOL activities, we announce up to two travel grants of one thousand Euros (€ 1000) each for ICOM / COMCOL members who intend to take part in the 13th COMCOL Conference from 24-27 October 2023 in Taipei, Taiwan.
If you wish to apply, please consult the Application Form for eligibility and submit it with the required information to the COMCOL Secretary, Brandie MacDonald (Subject: Young Members Application 2023) by 5th of June 2023.