Reframe Collecting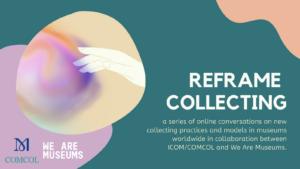 A series of meetups in collaboration with We Are Museums. In the Circle 'Reframe Collecting' we investigate in a series of meetups how we can rethink the practice of collecting as a strategy for collective care.
To register for these free meetups or to read and see them back, please go the the We Are Museums Community website
March 18, [Reframe Collecting]  Ep. 4:  Collections & the Creative Industries:  bridging the gab
Program to be confirmed.
February 15, [Reframe Collecting]  Ep. 4:  Collecting Memories: Connecting Tangible and Intangible
How do museums collect memories? What form do memories take when presented to the public? What is the role of curators, artists and community in the process of collecting and sharing memories?
In this session, we are going to discuss ways of collecting and representing intangible heritage. Our guest speakers will talk about how they approach collecting memories, impressions, smells, sounds, as well as contested heritage. They will also share ways of representing memories to wide audiences. We will aim to identify and discuss future directions in collecting and showcasing memories.
Our guests:
Anya Kondratyeva, independent curator, previously curator at the GULAG History Museum (Moscow, Russia)
Flavia Marcello, Associate Professor at Swinburne University of Technology, Faculty of Health, Arts and Design (Melbourne, Australia)
Mohamed Fariji, Co-director, L'Atelier L'Observatoire (Morocco)
Our Host:

Daria Gradusova, Museum Researcher, PhD student, Swinburne University (Melbourne, Australia)
January 28, 2021 [Reframe Collecting] Ep. 3: Digital Collections: A New level of Engagement
The mega-trend of digitality has been a driving force of global change. In our new digital culture, users increasingly become producers of their own content and technologies like artificial intelligence make individualized experiences the normality. This changes the way people engage with museums. Audiences are no longer satisfied with top-down content and demand a higher level of inclusion, participation and interactivity.
In this session, we are going to explore the potential of digital technologies to create new ways of engagement with museum collections: inclusive, participatory and relevant. By looking at international case studies we are going to discuss how digital collections of the future might look like and how we can use the digital space to facilitate dialogue, inclusive narratives and a plurality of perspectives around collections.
Our guests
Johannes Bernhardt, Digital Manager, Baden State Museum Karlsruhe (Germany)
Elena Villaespesa, Co-Investigator, The Museums + AI Network, Assistant-Professor Pratt Institute (United States)
Our Host
Christiane Lindner, ICOM COMCOL Young Board Member  and Digital Catalyst Creative Collections/Museum X Badisches Landesmuseum in Germany
December 2  [Reframe Collecting] – Ep. 2: Diversity as a Focus for Collecting
Why should we focus on diversity in collections and collecting practices? In this session, we are going to explore the diversity approach and connect it to the intrinsic fields of collecting: strategies, classification, catalogization, preparing for display. We are happy to discuss best practices and challenges of diversity as a focus for collecting from the human rights' perspective as well as examples of various institutions.
Our Guests:
Julie Rokkjær Birch, Director of the Women's Museum in Aarhus (Denmark)
Armando Perla (He/Him/His), Museum professional, independent consultant and doctoral student researching the impacts of institutional racism in the museum sector (Canada)
Our Host
Alina Gromova, Affiliated Board Member of COMCOL and board member of ICOM Germany
November 12 [Reframe Collecting] – Ep. 1: The Body and the Object
How can queering reframe collections and collecting? In this meetup, we will dive into this topic, where we look further into the term queer/queering in relation to museum work. We will review the international practices of re-thinking mainstream collections from a non-hetero normative gaze and discuss examples of dedicated queer institutions.
Guests
María Belén Correa, co-founder of the Argentinian Trans Memory Archive (Argentina).
Dan Vo, project manager for the UK Queer Heritage and Collections Network and Victoria & Albert Museum Ambassador (United Kingdom)
Our Host
Florencia Croizet, ICOM COMCOL Young Board Member (Argentina)