About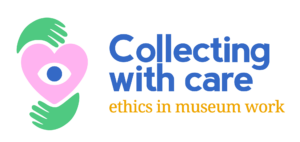 The global crisis caused by the arrival of COVID-19 has not only forced us to rethink our daily  lives and the way we work, but also the systems under which our societies have functioned.  Moreover, the pandemic has exposed the shocking impoverishment that has existed, for far too  long. And thus creating or increasing a series of pre-existing and concurring crises in all sectors  of our societies: social, political, financial, and cultural. Museums and other collecting  organisations around the world (like archives) have been confronted with several challenges  pushing them to re-examine and change the way they work. Most museums were forced to  close, museum staff faced redundancies or had to adapt to new ways and methods of working.  However, right from the beginning of the global crisis, many museums developed projects to  collect the pandemic and record this extraordinary situation that the whole planet has  experienced. In some parts of the world, institutions have already worked on contemporary  collecting and they relied for these collecting efforts on their previous experiences. However,  this is not the case everywhere. On the other hand, even institutions that do have experience in  contemporary collecting had to face new challenges regarding the ethics that this new situation  has brought for individuals and institutions (transparency of goals; collecting protest, hate, or  harmful material; rights and permissions; minimization of harm and representation of  historically marginalized groups hit hardest by pandemic; collecting with sensitivity; collecting  in an environmentally sustainable way, etc.). Therefore, COMCOL in collaboration with the  Committee of Ethical Dilemmas and partners from different parts of the world (see below)  propose the project entitled:  
"Collecting with Care: ethics in museum work".
Main Objectives 
– To develop an international dialogue regarding collecting during the pandemic and  concurring crises and aspects of them, as well as the ethical decisions that need to  be made during this type of projects.
– To create an online resource/repository – in multiple languages (English, French,  Chinese, Spanish, Finnish, Greek, etc.) – that museums could use to develop their  COVID 19 contemporary collecting programs and other urgent collecting projects  in an ethical manner.
– To provide training resources for the development of programmes focusing on the  ethics of contemporary collecting.
Partner Institutions
COMCOL
Danielle Kuijten (Chair of the Board)
Alexandra Bounia (Secretary of the Board) (abounia@ct.aegean.gr)
Gloriana Amador (Member of the Board)
IC Ethics 
Kathrin Pabst, Chair of the Board
Armando Perla, Board Member
Valeria Pica, Board Treasurer
TAKO Network for Collections Management and Contemporary Documenting in Finland
Johanna Jakomaa, Chair of the Steering Group
Kirsi Ojala, Vice Chair of the Steering Group
Maria Ollila, Secretary of the Steering Group
Museum Casa de la Memoria 
Alejandra Cardona, Advisor to the Director  
Museo MIO 
Eunice Baez, Curatorial Commission Coordinator
District Six Museum 
Chris Julius, Acting Director  
Illinois State Museum 
Erika Holst, Curator of History
Amanda Bryden, History Collections Manager
Doug Stapleton, Curator of Art
National Museum of Australia 
Libby Stewart, Acting Head Curatorial Centres
Craig Middleton, Assistant Manager, Exhibitions
Consortium of Institutions from Taiwan (Chinese Association of Museums, Taiwan, National  Taiwan University of Arts, National Museum of Taiwan History, National Chiao Tung
Lai, Ying-Ying, Prof. (Professor, Graduate School of Arts Management and Cultural Policy, National Taiwan University of Arts; Advisor, ICOM-FIHRM (Federation of International Human Rights Museums)
Tseng, Wen-Lin, Curator (National Museum of Taiwan History)