Decolonizing as a verb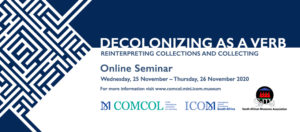 SAMA ICOM-SA COMCOL Online SEMINAR:
Decolonizing as a verb: Reinterpreting collections and collecting
Wednesday 25 November – Thursday 26 November 2020
In recent years, museums across the globe have been tackling the challenges of decolonizing in their institutions. They do this in response to a growing demand from society that museums should face their historical selves and their inherited practices. Museums are challenged to acknowledge their past, understand how the past shaped the present and act on it today for a different future.
Looking at the different approaches to decolonization worldwide, the term appears to be subject to different interpretations. Some define it as a process that institutions undergo to expand the perspectives they portray beyond those of the dominant cultural group, particularly white colonizers. Whereas others define it as "at a minimum creating procedures for sharing authority on documentation and interpretation."
The legacies of the colonial are ingrained in the social fabric of today's society, they are stored in our bodily archives. Therefore, decolonization is not simply a matter of representation or repatriation. It concerns the language we speak, the archives we use, the way we categorize, what we collect, how the building is designed, the way topics and objects are researched and how knowledge is defined and shared.
COMCOL, ICOM-SA and SAMA organized a joint seminar to explore with international guests different concepts and practices of decolonization in the context of collection and collecting.
To watch (back) the sessions see below the buttons per session.
WEDNESDAY 25 NOVEMBER – 2 sessions between 14:00 – 17:30 CAT
14:00 – 15:15 (CAT) SESSION I: Question of the Archive
We will start our program with a conversation with renowned African historian, philosopher and political scientist Joseph Achille Mbembe, discussing among others the state of post-colonialism that emerges from the act of decolonization.
Moderator: Alexandra Bounia, Professor of Museology – University of the Aegean- Greece
Special Guest: Professor Achille Mbembe – University of the Witwatersrand – South Africa
15:45 – 17:30 (CAT) SESSION II: Unpacking decolonization – theoretical perspectives
In this session we will discuss the thinking of decolonization in relations to bodies of theory. How is decolonization researched? What is considered knowledge? Museums are considered to be the loci of colonialism and colonial legacies. Ultimately the question is whether museums can be agents of repair using the existing framework of museum theory? If not, is it possible to re-imagine museums to become agents of change and what are the implications for museum practice, including collections and collecting.
Moderator: Ciraj Rassool, Sr. Professor of History – University of the Western Cape – South Africa
Guests
Jesmael Mataga, Head of the School of Humanities – Sol Plaatje University – South Africa
María Iñigo Clavo, Professor – Open University of Catalonia – Spain
Bruno Brulon Soares, Professor of Museology – UNIRIO – Brazil
Bongani Mkhonza, Curator – UNISA Art Gallery and art collection – South Africa
THURSDAY 26 NOVEMBER – 3 sessions between 13:30 – 17:40 CAT
13:30 – 14:30 (CAT) SESSION III: Art and the Bodily Archive
In this session we talk to artists about how they use the archives from colonialism and imperialism to uncover narratives by unlearning, undoing existing patterns and repertoire. How we can shape space to create new art languages as an act of decolonization.
Moderator: Bernard Akoi-Jackson, Artist and Writer – Faculty of Art – Kwame Nkrumah University of Science and Technology – Ghana
Guests
Barby Asante, Artist, Curator and Educator – United Kingdom
Azu Nwagbogu, Founder and Director – African Artists' Foundation (AAF) – Nigeria
14:50 – 15:40 (CAT) SESSION IV: Breakout sessions – Digging in
In this session we offered 3 parallel spaces. An opportunity to discuss and exchange with colleagues.
Moderator: Medee Rall, Director of the Centre for Extra-Mural Studies – University of Cape Town – South Africa
GROUP 1: Creating networks – Sharing Knowledge
Room host: Claudia Porto, Museologist – Digital Preservation Department of the Congress – Brazil
GROUP II: Using new collecting strategies to fill the gaps in colonial collections
Room host: Leen Beyers, Curator & Head of Research – MAS – Belgium
GROUP III: The colonial collection on trial – the falling statues
Room host: Steven Kotze, Curator – Durban Local History Museums – South Africa
Recordings are not available for this session

15:50 – 17:40 (CAT) SESSION V: Decolonization as a verb – getting practical
From the mind to the body, in this session we discuss how museum professionals worldwide translate the theory of decolonization into practice. With whom are they engaging and how do they create a model where ideas of equal sharing of knowledge and capital is secured?
Moderator: Bongani Ndhlovu, Executive Director Core Functions – Iziko Museums – South Africa
Guests
Brandie Macdonald, Director of Decolonizing Initiatives – San Diego Museum of Us – United States of America
Laura van Broekhoven, Director – Pitt Rivers Museum – United Kingdom
Flower Manase, Curator of History – National Museum of Tanzania – Tanzania
Jérémie Michael McGowan, Independent Curator and Designer – Norway
Download here the full program and biographies of speakers and moderators.